I am happy to report our Kimber has come home this morning after spending a couple of weeks with Templinhaus Rottweilers; while she was successfully tied to Jery Von Aleksandras a total of three times.

Rottweiler pairing
This Rottweiler pairing (Jery Von Aleksandras X Kimber NyKole Von Hause Huenink) is a line breeding of World Famous Intl. Champion Rottweiler Gil Von Hause Milsped and will produce some outstanding puppies. Both Jery and Kimber pull from their pedigree to produce their offspring to give us the nice wide heads complemented with their perfect bone structured. Remember we breed for temperament and I have spent time with both of these dogs. I can assure you with the proper lifestyle and training their puppies will follow for your needs. Whether it be a family pet, working, or protection these offspring will be very well suited for your family's needs!
Kimber is also the grand daughter of the baddest Rottweiler on the planet today, Burning des Prince D'Aragone. Burning is the only Rottweiler to win the IFR World Title twice in his lifetime (2009 & 2012) and take the IFR Vice World Title in 2010! this pairing will produce one of the most sought after pedigree in our lifetime!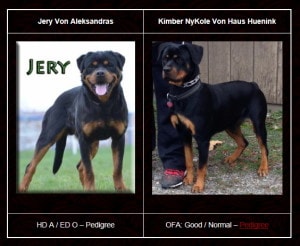 Both Jery and Kimber meet or exceed King Rottweilers breeding requirements.  Especially when it comes to their Hips and Elbows with ratings of Good (or better) for their hips and Normal for their elbows. Jery is an import so his rating is European Certified and Kimber has been OFA Certified
With only two (2) reservations left on this litter; we are sure to have these puppies reserved before they are whelped, reserve yours today before it is too late!
Start with here with our Puppy Application.